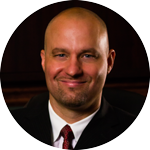 Chad Jampedro
President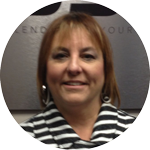 Debbie Beier
Chief Operating Officer
We get why your home mortgage is important to you:
When most people tell a story, they often date it by the home they were living in at the time. A home is a lot more than a structure held together by wood and nails. It is a part of the world stage that holds your stories, your memories and your milestones. We get it. In fact, we've been helping to create these stories and helping people buy homes, for 20 years.
Choosing a home loan shouldn't be stressful, or overwhelming. That's why GSF is dedicated to helping you successfully navigate the mortgage process. With our comprehensive list of home loan options and our well-trained experienced staff, you can be sure you are in good hands.
So, whether you are searching for your first home, or your third, GSF Mortgage is here to help select the best mortgage, for you. We call it: "Lending In Your Favor."
Your decision matters to us:
When you choose GSF Mortgage for your home loan, you can be confident that you are working with a company with integrity and sound mortgage market expertise. If you are looking for a mortgage lender, or are considering purchasing or refinancing a home, contact GSF today.
Our History
Our story begins now. With renewed dedication to consumer education and new measures to improve transparency, the GoGSF brand combines state-of-the-art technology with old-fashioned customer service to streamline the lending process. This process has become known as "Lending In Your Favor."
GoGSF ensures the best rate and terms are available upfront. The GoGSF service level design is effective for all transaction types, and the company continues to build upon its strong community foundation to create an unmatched level of product, price and service to meet customer's needs.
Among the owners of GSF include company owner and CEO, Jim Guzanick and founding president, Phil Siebert, who retired in 2012. Chad Jampedro is the current president of the company.
GSF has access to government backed and portfolio mortgage products with the most competitive and flexible terms available. The company also provides opportunities for state bond, rehabilitation, second lien and asset based lending programs.
GSF is licensed in the Following States: Alabama, Arizona, Arkansas, California, Colorado, Delaware, Florida, Illinois, Indiana, Iowa, Kansas, Louisiana, Maine, Maryland, Massachusetts, Michigan, Minnesota, Missouri, New Jersey, North Carolina, Ohio, Oklahoma, Pennsylvania, Tennessee, Texas, Virginia, Washington D.C., Wisconsin and Wyoming.
Ancient History:
GSF Mortgage Corporation was launched as a small mortgage brokerage in 1995, in Brookfield, WI, by a group of principals who had worked together in the financial industry since the 1970s.
The company was formed to provide solutions for mortgage companies and support for FHA, FNMA, FHLMC, USDA and Veteran Affairs mortgage products. By 2002, GSF employed over 350 people with 19 offices, expanding to locations in Minnesota, Illinois, and Maryland, creating more than 1,500 mortgages per year.
In a few short years, GSF had offices in 19 states, and began funding loans as a full-service direct mortgage broker.
Our Awards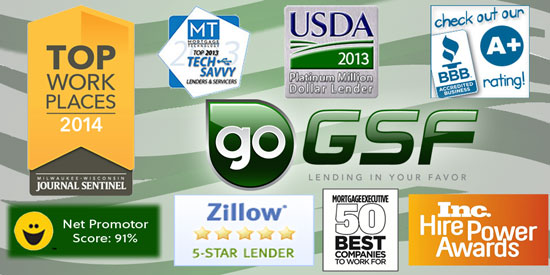 GSF in the News